There were over 150 teams participating in the 2016 competition. It includes about 80s teams from United States, and about 70s teams from foreign countries, such as Russia, Australia, Japan, etc. Click here to view Press Release from MIT/ZeroRobotics.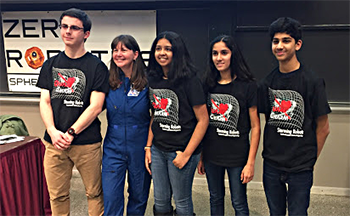 Team member Alexander Saff, Former Astronaut Cady Coleman, Team members Mehal Kashyap, Sonia Purohit, and Prateek Humane(Team Lead) at the ISS-Final.
Full Team.
(from left to right, top to bottom)
Brian Winkelried-Gr.12, Mehal Kashyap-Gr.10, Prateek Humane (CoCap)-Gr.10, Karthik Murthy-Gr.11, Ashley Yang-Gr.12, Ethan Mak-Gr.10, Bhavik Shah-Gr.12, Daniel Kolano (CoCap)-Gr.12, William Cui-Gr.10, Neelay Trivedi (CoCap)-Gr.10, Jack Winkelried-Gr.12
(at the bottom of the pic)
Sonia Purohit-Gr.10, Sean Doran-Gr.11, Alexander Saff (CoCap)-Gr.12, Stephen Therianos-Gr.12, Sunny Cheng-Gr.10.