In the post you will find:
How to register (returning students & new students)
About the Roadmap
Program Fee Structure
Frequently Asked Questions (FAQ)
---
How To Register!
Returning Students:
Returning students do NOT need an evaluation and do NOT need to fill out a registration form. A renewal email should have gone out to each returning student so be sure to check your email! All you need to do from there is respond to the email with your class choice!
New Students:
New students will need to complete an evaluation before they can register! This is a 30-minute evaluation session to determine readiness and eligibility for our year-round online programs. Evaluation sessions will include spatial reasoning and logic questions.
Who is Exempt from Evaluations:
All current Algorithms in C/C++ Level I + students.
All new students who have attended our 2020 Summer programs and received recommendations for our roboclub programs.
All 2020 Spring term students who have received recommendations to rejoin SR online programs.
To register for an evaluation, visit HERE.
Upon completion of the evaluation, you will receive a class recommendation and from there you just need to check out our calendar to determine what fits into your schedule! Check out below to see the different tracks we offer!
---
About the Roadmap!
Storming Robots provides year-round robotics engineering and technology education for talented youth from Grades 4 to 12. We call it the RoboClub. We offer engineering challenges that are not commonly present at grade-school levels. Our high school programs deliver college level challenges.
Robotics Projects Track – Gr. 4-8
This track deals with robotics programming with open-ended challenges! Students have the opportunity to hone their skills in building and strengthening their problems solving skills with programming and robotics.
Computer Science Track -Gr. 8+
Focuses on software development with computational thinking, efficiency, and algorithmic thinking, not just programming. Levels from elementary to algorithms commonly only available at the college level, and ultimately in the professional world as well.
For more details, please check out our website!
---
Program Fee Structure!
All new Roboclub students will be subject to a $30 (one-time only) new member fee. The chart below shows all tuition fees for each track.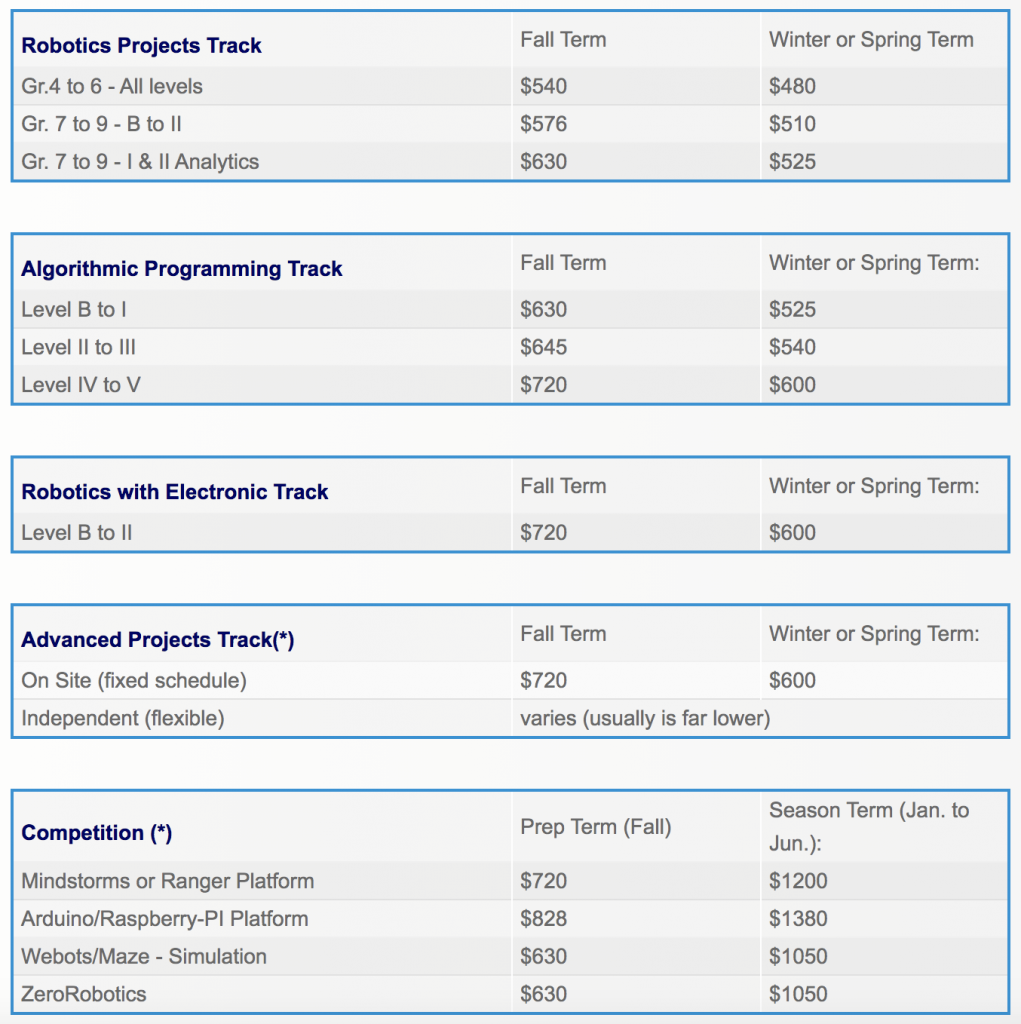 Frequently Asked Questions (FAQ)!
What is the student to instructor ratio?
The student-to-staff ratio in our programs ranges from four to eight students per instructor, depending on the grade level. In most classes, especially for the lower grades, students work in teams of two to learn teamwork. This encourages the students to speak out and discuss their ideas.
What is my student misses a class?
We highly encourage students to be committed to the robotics classes schedule and not to miss a class unnecessarily.
Our strength is to stay fluid with each individual group's interest and learning in order to allow the fullest learning potential. Due to the nature of teamwork, absence causes disruption to others. In addition to an open-end challenge environment, no two classes are at an identical pace.
The purpose of any makeup session is to ensure students catch up with the class pace, "not" to make up hours. No makeup sessions will be necessary for lower-level students. Only advanced students, i.e. Level I & II Analytics and up, will be given make-up classes.
When can my student participate in competitions?
The competitions we choose to participate are far more demanding in programming than most other popular pre-college robotics competitions available in the States. Thus, all students must demonstrate proficiency in various levels depending on the competitions.