Each year, up to 161 students are named as Presidential Scholars, one of the nation's highest honors for high school students. In New Jersey, only eight students were chosen for this honor. This year, long-term SR student Sonia Purohit received the title of Presidential Scholar.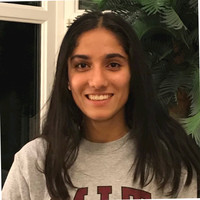 Sonia Purohit joined Storming Robots during her 7th grade. During her 11th grade, Sonia took on the role of being an instructor and mentor for our younger competition teams. She will enter the MIT Class of 2023 beginning this fall and plans to study Computer Science!
The U.S. Presidential Scholars Program was established in 1964 by executive order of the President to recognize and honor some of our nation's most distinguished graduating high school seniors. In 1979, the program was extended to recognize students who demonstrate exceptional talent in Arts field. Not until 2015, the program was again extended to recognize students with ability and accomplishment in career and technical education (CTE) fields. Each year, only up to 20 students are selected under this CTE category. Sonia is one of them in 2019.
Application for the U.S. Presidential Scholars Program is by invitation only. The student must be a U.S. Citizen or Legal Permanent U.S. Resident, and must be a high school senior with exceptionally outstanding academic achievements. They also must be nominated by their state's Chief State School Officer. Out of 5,200 qualifying candidates, only 161 receive the title of Presidential Scholar each year!
The 2019 ceremony will be held on June 23rd when each honoree will receive a Presidential Scholar Medallion at the Whitehouse in Washington D.C.
Congratulations to Sonia and her proud parents!
Presidential Scholars are also required to nominate a teacher that has been the most influential in their learning journey. Sonia has nominated our SR director, Elizabeth Mabrey, for the 2019 Presidential Scholars Programs Distinguished Teacher Award. Read more about it!
Visit US Department of Education U.S. Department of Education, to view the complete list of all 2019 Presidential Scholars and the Distinguished Teachers.